Nadine Salembier: Vityal Cream
Product from France - Since 1962
It was formed by a beauty saloonist owner which now her name is known as this brand
My Skin Condition
Well, I have a combination skin which is dry inside and oily outside. The reason i got to know this is i went for treatment scanning and doctors informed me that due to the frequent usage of drying agent for my skin during high school ( I used to have a full face of breakouts! ) has reduced the inner amount of oil. Thus, my skin reacts and secrets extra oil on the surface which result a shiny skin completion and makes me look horrible !
Well, if you have skin like mine , the only way to regain back the inner hydrant within the skin is through hydrating agent that isn't oily.Thus, I was willing to try out Vityal Hyaluronic Acid.
Does the word Hyaluronic acid (
Hyaluronic acid is a substance that is naturally present in the human body. It is found in the highest concentrations in fluids in the
eyes
and joints. - aka human protein lubricant)
sounds familiar to you? Yes, many brands nowadays are coming out with this content and the famous ones are such as - Hada Labo explanation -->
Hyaluronic Acid (1gm of Hyaluronic Acid is able to hold up to 6 liters of water) and also JuJu Aquamoist originated from Japan.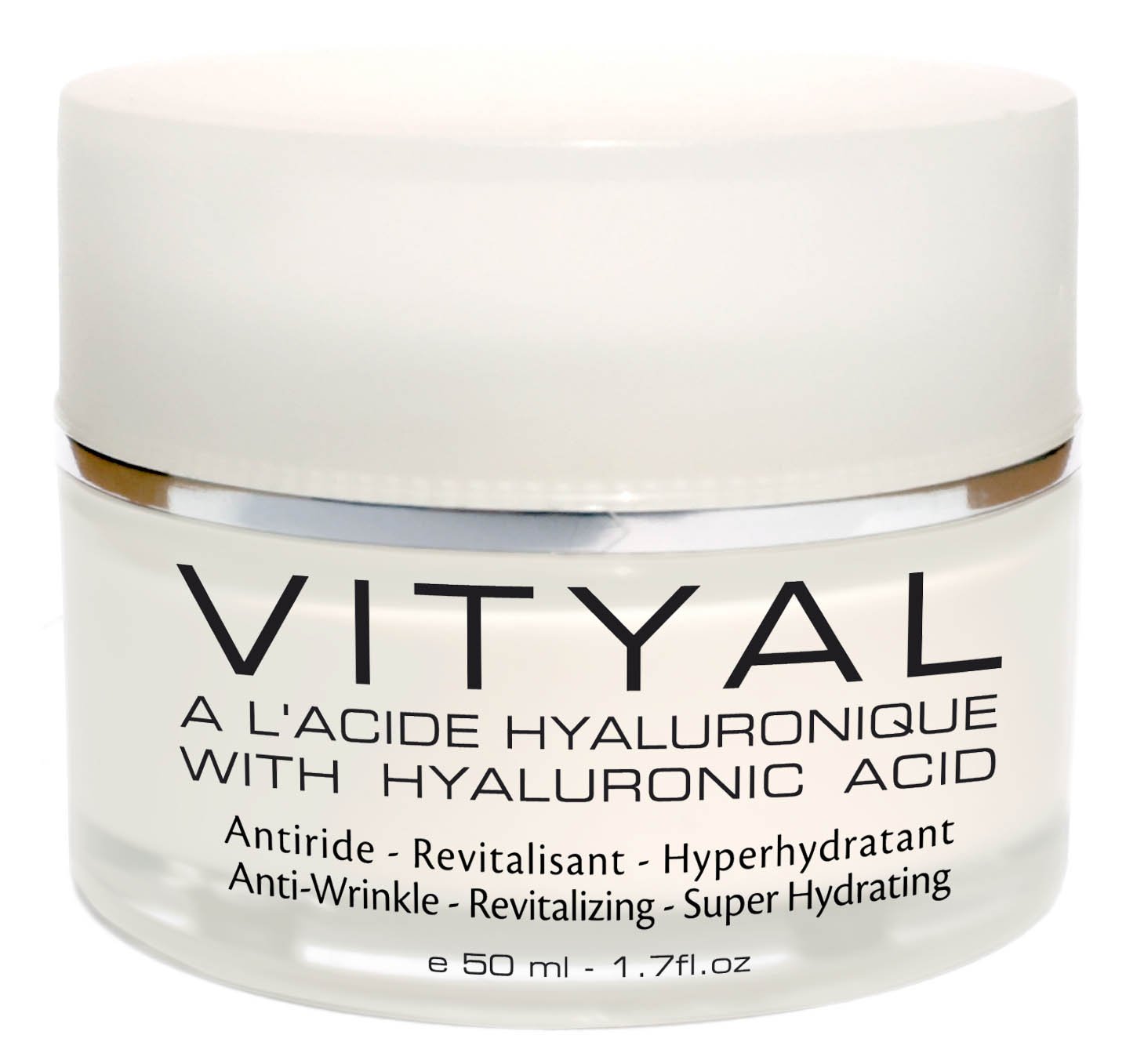 As picture seen, the main ingredients of this cream are hyaluronic acid,Pfaffia, Cacao etc
All these main ingrediants are well known in the market as a hydrating agents.
Yet, most of the combination would turn out to be greasy and causing Pimples and acnes.
I had been using this product for a month now and could see the difference within this product as it doesnt clogges my pores like normal cream does. In fact it doesn't feel creamy nor watery. When it's pat on the skin, it absorbs quickly and my skin will be smooth and works as a make up primer !!
The whole packaging comes i a box like this and it is well kept glass tempered which doesn't break easily.
As for the product I would give it a
Honestly as compared to Hada Labo, this would be much rich more of like a serum.Besides, it is definitely worth the price for a serum. I would recommend this product for women above 20
with Normal - Dry skin condition.
Currently this product is only available at Nadine Salembier beauty centre.
Why not purchase Online ??
where u can get it delivered to your place !!!
DO you know what ???
Comment n Like my Facebook Page !!
Here's the CODE :

63XP7W !!
LIMITED FOR A MONTH PERIOD ONLY ~ <3